Scale new heights on our 12 metre high climbing wall, positioned by our light Reception space with plenty of windows. For complete beginners we have taster sessions and learn to climb courses and for experienced climbers you can take on our wall with its different routes at a time of your choice when the wall is available. The wall provides a challenging climbing surface for all grades of climbers and boasts the following:
Taster sessions (one per year, on selected memberships)
Unlimited access on selected membership or pay per climb access for competent climbers
Impressive 12 metre high wall
Perfect for beginners to advanced climbers
Dramatic overhang, vertical and slab surfaces
Free Competency Assessment
Adult Bouldering Disclaimer
Adult Unsupervised Climbing Disclaimer
Novice Supervised Climbing Disclaimer
Non Student
HertSquad Pass Members
Adult (90 mins)
| Off-peak | Peak |
| --- | --- |
| £3.88 | £7.50 |
Non-Members
| Off-peak | Peak |
| --- | --- |
| £7.75 | £8.75 |
Off-Peak: Before 5pm Mon – Fri, anytime Weekends Peak: After 5pm Mon – Fri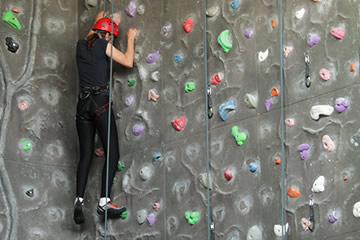 Taster
Session
Never climbed before but want to have a go? Get started with a one hour taster session. These sessions are aimed at complete novices as an experience/trial session. An instructor is on hand to help you with the basics and all equipment is provided.
Please register your interest for a taster session below.
Sundays between 10:00-11:00, 11:00-12:00 and 12:00-13:00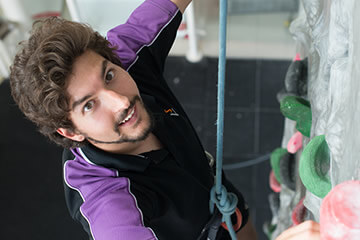 Competency
Assessment
To ensure the safety of all of our climbers, everyone must complete a Competency Assessment before climbing unsupervised.
A Competency Assessment tests your ability to safely put on a harness, tie in and belay (no teaching is involved).
Climbing Competency Assessments need to be pre-booked – make sure you email now to arrange yours!
Price
FREE
Selected evening slots available.
Want to climb? Book your Competency Test today!
To ensure that we can continue to offer a safe environment for unsupervised sessions, we will require everyone to complete a new Competency Test.
Why not join our Club Sport Climbing Club?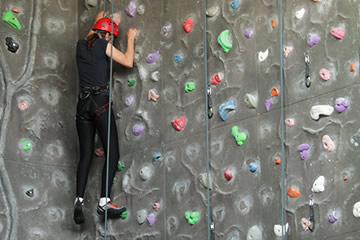 Adult Learn to Climb
Courses
Our Learn to Climb courses and inductions are designed as 'zero to hero' for brand new climbers to pass a Climbing Competency Test and practice techniques in a safe environment.
Duration
3 x 90 minute sessions
When
First three Thursday evenings of each month from 18:30-20:30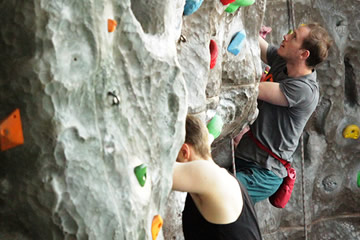 One-to-Ones
Our One-to-Ones are tailored for individual coaching and instruction.
Price
£25.00 Members
£25.00 plus entry Non-Members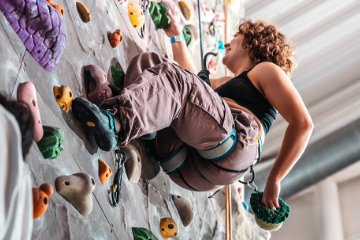 Women's
Wednesday
Brand new informal climbing sessions for women of all ages and abilities+. Sessions are coached by a female instructor and are aimed at women who want to learn how to climb, train, laugh, talk, challenge and develop themselves in a relaxed and supportive environment. A great opportunity for more women to become involved in climbing!
Duration
2 and a half hours
When
First Wednesday evening of each month from 19:00-21:30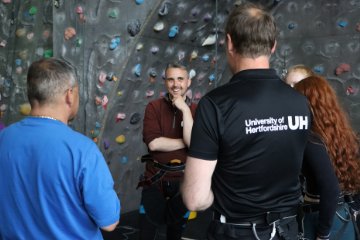 Social Climbing
Nights
Want to climb but don't have a partner? Would you like to meet new climbers? Want to get your belaying checked by a professional or just climb in a fun and friendly atmosphere? Then come along to our regular social climbing nights every month to meet new climbing partners and climb. Instructors will be on hand to belay and kids can belay for their parents (under supervision). With music, cakes, tips on routes, free kit checks, the opportunity to try new equipment and general climbing chat, these are definitely nights for the calendar!
Age Group
18+ years for competent climbers. Under 18's must be accompanied by a competent adult
When
Last Thursday evening of each month from 19:30-21:30
Indoor Climbing
Assistant
Course
This Indoor Climbing Assistant Course is awarded by Mountain Training and is designed to allow holder's to assist Climbing Instructors on the wall. This in turn allows for larger group sizes on climbing walls to be catered for and is the first step in the Mountain Training Qualification process. This one day course is designed for people who want to support qualified instructors with climbing sessions on artificial structures. The course could benefit parents, youth workers, young leaders or teachers with the focus on assisting with core tasks within a session. Find out more on the Mountain Training website.
Duration
8 hours (usually completed in 1 day but can be split into 2 x 4 hour sessions)
When
Contact us below for available dates. Appointment only.