Scale new heights on our 12 metre high climbing wall, positioned by our light Reception space with plenty of windows. For complete beginners we have taster sessions and learn to climb courses and for experienced climbers you can take on our wall with its different routes at a time of your choice when the wall is available. The wall provides a challenging climbing surface for all grades of climbers and boasts the following:
Taster sessions (one per year, on selected memberships)
Unlimited access on selected membership or pay per climb access for competent climbers
Impressive 12 metre high wall
Perfect for beginners to advanced climbers
Dramatic overhang, vertical and slab surfaces
Free Competency Assessment
Adult Bouldering Disclaimer
Adult Unsupervised Climbing Disclaimer
Novice Supervised Climbing Disclaimer
Non Student
HertSquad Pass Members
Adult (90 mins)
Non-Members
Off-Peak: Before 5pm Mon – Fri, anytime Weekends Peak: After 5pm Mon – Fri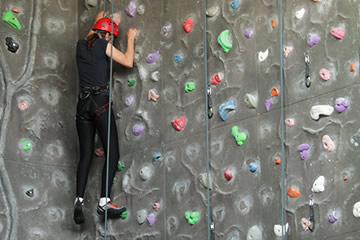 Taster
Session
Never climbed before but want to have a go? Get started with a one hour taster session. These sessions are aimed at complete novices as an experience/trial session. An instructor is on hand to help you with the basics and all equipment is provided.
Please register your interest for a taster session below.
Sundays between 10:00-11:00, 11:00-12:00 and 12:00-13:00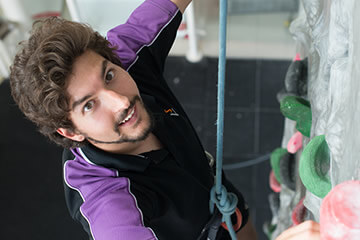 Competency
Assessment
To ensure the safety of all of our climbers, everyone must complete a Competency Assessment before climbing unsupervised.
A Competency Assessment tests your ability to safely put on a harness, tie in and belay (no teaching is involved).
Climbing Competency Assessments need to be pre-booked – make sure you email now to arrange yours!
Price
FREE
Selected evening slots available.
Want to climb? Book your Competency Test today!
To ensure that we can continue to offer a safe environment for unsupervised sessions, we will require everyone to complete a new Competency Test.
Why not join our Athletic Union Climbing Club?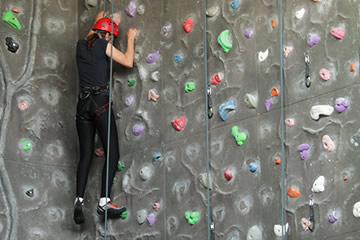 Adult Climbing
Courses
Our Learn to Climb courses and inductions are designed as 'zero to hero' for brand new climbers to pass a Climbing Competency Test and practice techniques in a safe environment.
Duration
3 x 90 minute sessions
When
Thursdays from 18:30-20:00
Price
£60.00 Members
£75.00 Non-Members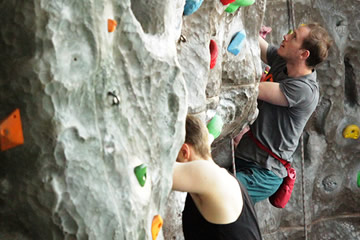 One-to-Ones
Our One-to-Ones are tailored for individual coaching and instruction.
Price
£25.00 Members
£25.00 plus entry Non-Members