Whatever your aims and level of experience, the 25 metre, 8 lane deck level pool offers a modern state-of-the-art swimming experience for you to enjoy. The design of the pool provides great flexibility to all swimmers whether you swim for fitness, competition, fun or relaxation.
If you are looking to learn to swim we also offer swimming lessons for adults.
Swimming Pool Timetable
Non Students
HertSquad Pass Members
| Off-peak | Peak |
| --- | --- |
| £2.88 | £5.75 |
Non-Members
| Off-peak | Peak |
| --- | --- |
| £5.75 | £6.75 |
Off-Peak: Before 5pm Mon – Fri, anytime Weekends Peak: After 5pm Mon – Fri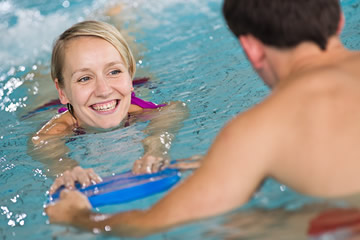 Adult
Swimming Lessons
Ideal for adults who would like to start to learn how to swim, or return to the pool after a long break. This part of our programme aligns with the Swim England Adult Swimming Framework, which has four progressive stages to work through.
Tuesdays:
12:45-13:15 Beginners
13:15-13:45 Beginners
15:00-15:30 Beginners
20:30-21:00 Beginners
21:00-21:30 Beginners
21:30-22:00 Intermediate
Wednesdays:
20:30-21:00 Beginners
21:00-21:30 Beginners and Intermediate
21:30-22:00 Beginners and Intermediate
Fridays:
12:00-12:30 Beginners
12:30-13:00 Intermediate
13:00-13:30 Beginner
13:30-14:00 Beginner
14:30-15:00 Intermediate
15:00-15:30 Beginner